Critical Acclaim
Tosca
"Soprano Emily Langford Johnson delivers a magnificent Tosca in Opera Roanoke's new production. Johnson's lustrous voice turns swiftly from joy to jealousy, her instrument shifting its colors, as needed. Most importantly for the story, Johnson (clothed brilliantly in Christopher Metzger's costumes) commands the stage as Rome's diva La Tosca, a woman caught up in political machinations, which at first only baffle her. Johnson transforms her Tosca from target to weapon without ever losing control of her voice's thrilling sound — a truly moving rendering of one of Italian opera's most riveting creations."
 - Gordon Marsh, The Roanoke Times -
Gotham Chamber Opera – Ariadne Unhinged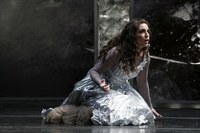 "…Johnson was a committed musically secure Ariadne. She gave herself fully to
the concept and direction, gesturing in sync with the dancers, gliding gracefully
through the reflective moving panels of the coolly elegant set, and shifting with
little apparent effort from one musical style to the next…It was a tall order, but
Johnson gamely tackled every demand and acquitted herself beautifully."
-Opera News, 2008
"…Emily Langford Johnson, the virtuostic mezzo-soprano on duty, lurched, staggered, crouched and struck brave terpsichorean poses…"
"…the marathon protagonist moved with astonishing ease, physically and vocally, from Monteverdi's expressive lyricism to Schoenberg's dissonant Sprechgesang to Haydn's poignant drama."
-Financial Times, 2008
"Johnson outdid herself in what amounted to an Ultimate Themed Recital…Artfully veering between the off-kilter expressionism of the Schoenberg and the relative clarity of the Monteverdi and the Haydn, Johnson registered a wide range of mental states in a memorable portrayal of a woman on the verge of a nervous breakdown."
-Blog About Town, NYC 2008
"Ms. Johnson made a superb impression on me…with the unrestrained passion of her vocalism and her ability to shift from the recitar cantando of Monteverdi to the classic style of Haydn and the jagged parlando of Schoenberg. Tall and attractive and willing to use her body as an expressive instrument, Ms. Johnson's warmly vibrant vocalism went from strength to strength in an arduous 75-minute 'monolog' in which she hardly ever stopped singing. Fearless in her exploiting of the vocal range, her high notes rang out into the house and her lower register was dark and sensuous.
"Few singers would risk this kind of performance and the audience rightly shouted their approval for Ms. Johnson at the end."
-Oberon's Grove, 2008
Fox Valley Symphony - Carmen
"…the stars of the evening were Johnson and Glassman as Carmen and Don Jose. Both singers seem to grow in musical stature as the evening progressed. Johnson's first aria, the famous Habanera, served as a "warm-up" as to what was to come. I found her singing of the Sequidilla closing act one to be superb. In addition, she must be praised for her acting skills. Johnson proved to have mastery of the full range of her voice. Her exquisite top is of equal quality to her bold lower range, so needed for this demanding role. Finally, her singing in the final scene was strong, emotional and performed with absolute clarity."
-Post-Crescent, 2009
Opera Santa Barbara - Carmen
"Emily Langford Johnson sang the title role as if she were born for it."
"No Carmen would be complete, however, without a truly compelling mezzo soprano
in the lead, and Johnson more than fulfilled that requirement. Her castanet
dance was thrilling and sexy, and her mood swings were convincing and emphatic."
-Santa Barbara Independent, 2009
"Emily Langford Johnson is as languid as a sated cat and as vicious as a wildly
hungry one. Either way, she fleshes out the role with a range of emotions and
growing self-awareness that makes her compelling to watch. She toys with men,
even when the game is just to allay boredom. Her Carmen is about raw sexual
power lit and stoked by an adventurous nature."
"Langford Johnson's triumph as Carmen is in the depth of her acting skills, though
she also brings an effective mezzo-soprano voice to the task."
-Ventura County Star, 2009
"Most significantly, though, OSB's "Carmen" had at its center a captivating Carmen. On this stage, New York City-based mezzo-soprano Emily Langford Johnson was making her debut in the role (and with OSB), and she seems tailor-made to tackle it. In a touch of behind-the-scenes intrigue, Ms. Johnson miraculously stepped in at the 11th hour, filling in for a Canadian singer who was hung up with visa problems."
"From her first musical flourish, singing the ever-popular "Habanera" in Act I, Ms. Johnson showed the stuff of a well-placed dazzler, blessed with a strong and supple voice and, not incidentally, the visual and thespian charisma critical to the success of this role…"Carmen" needs blood, guts and a tempestuous heart. Ms. Johnson's got those qualities going for her."
- Santa Barbara News-Press, 2009
Gotham Chamber Opera – Il Signor Bruschino
"As the maid Marianna, Emily Langford Johnson was a sexy, Sophia Loren-like flirt…"
-New York Times, 2007
"Mezzo-soprano Emily Langford Johnson used her rich and thick voice to portray the flirty maid Marianna."
-Columbia Daily Spectator, 2007
"…Marianna (the lusciously attractive Emily Langford Johnson, extremely stage savvy and sporting a fine chestnut-hued mezzo for which one wished Rossini had provided more music)."
-Opera News, 2007